Tucked away in one of the journals I'm reading, in my grandmother's hand, I found the recipe card for my grandfather's famous sourdough bread. He made this bread all my life. I remember the joy of eating a loaf out of the oven with them during a sleepover. Grandma would rub the top of each hot loaf with butter, delicious! I plan to make this bread this week, just need to get some flour. He also used this sponge to make pancakes. They were delightful, but I suspect they were mostly wonderful because I loved him so.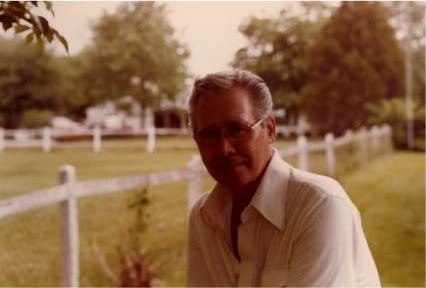 Leon Huber
Sponge:
1T yeast
2 cups warm water
2T sugar
Mix above and add 2 cups of flour. Set over night in a covered bowl.
To make bread next day, add:
2T oil
1 egg
2T sugar
1t salt
5 c flour, one more if needed, as you kneed. (Didn't say how long to kneed, but I will use my Kitchen Aid mixer and try 8 minutes.) Makes a soft dough. Put in 2 pans and let double. Bake in 400 degree oven for 30 minutes.
I'll let you know how it turns out.
~Jenn
UPDATE: I made two batches of bread over the weekend. It is excellent!